Our Blog
What is a 203k? Is it right for me?
Sometimes finding the perfect home can be a long, tough process.  If you are looking for move-in ready, you have to pay the price for move-in ready.  If you lower your search criteria, it brings you out of your ideal neighborhood, or to smaller homes.  For this reason, the 203K loan program was established by FHA to help homebuyers repair older/broken-down homes they wish to buy and inhabit.  This program allows the buyer to finance the purchase price and the money needed for the repairs to be completed after the closing.  Within this program 1-4 unit properties are eligible.
Some of the more popular repairs for this program include repairing or replacing roofs, gutters, HVAC systems, flooring, kitchen and bath remodeling, plumbing/electrical systems, window and doors replacements, well and septic repairs, painting/lead paint removal, and everyone's favorite; new appliances.
There are some provisions that go along with the program, such as the contractor you hire must be licensed and fully insured.
Any subcontractors that are hired (electrician, plumbers, etc) must also be licensed and insured.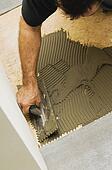 For more info on 203(K)'s and if it is the right decision for you, feel free to contact me.
Mike Amaro
401-651-5633
mamaro@mortgagemaster.com